---
MILA Solutions is available to help with special projects that take advantage of our writing, creative and management skills. Some examples are presented here, with more examples coming soon.
---
NASA Contributions to Aeronautics
In 2010, NASA published a two-volume book that reviewed the agency's contributions to aeronautical research during its first 50 years of existence. The work was managed and edited by the respected author and historian, Richard Hallion, who contracted with MILA Solutions to write three of the book's chapters, covering the topics of jet engine propulsion, aircraft icing and air traffic management. Links to PDF files of the individual chapters are offered here, while e-book versions of the entire book set, along with other interesting titles, are available at no charge from this NASA web page.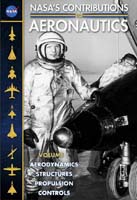 ---
National Space Club Florida Committee
I have been a member of the board of the National Space Club Florida Committee for some 20 years. The organization is the state's leading space-related club and is affiliated with the National Space Club in Washington, D.C. Our purpose is to honor, inform and inspire the past, present and future members of the nation's best aerospace workforce, which is right here on the Space Coast. My contributions include project management and graphics support. The examples shown here are typical of the kind of graphics support provided, including an update of the logo, which was based on a photocopied, black and white drawing originally done decades ago:

Project management support is provided by chairing various committees, including the selection committee for the Harry Kolcum News and Communications Award, as well as the annual Celebrate Space dinner. In 2012, I co-chaired with NASA the Kennedy Space Center's 50th Anniversary Gala, which was held at the Apollo Saturn V Center. The two videos here include NASA TV's report on the event (you can hear me as emcee welcoming the crowd) and the official KSC at 50 video, which I helped (just a little) to produce.
---
Faith Fellowship Church
My wife and I attend Faith Fellowship Church in Melbourne, Fla. Their children's program director is Kris Pakulak and it's my sincere pleasure to be able to help her reach out to young kids with a message that God loves them. When Kris needs some creative help, perhaps with some writing or graphics, I'm happy to help where I can. Now I will be the first to admit I'm a self-taught amateur when it comes to graphics and video production, still I think I do OK. I offer these examples of my volunteer work for my church to showcase some of my skills.

VBS 2015

As we did last year, the Faith Fellowship Church VBS leadership team adapted materials to create it's own themed VBS -- Diving Deep Into God's Word. Here are some the graphics, publications and materials I created to support this program.

Our videos from this year include our five music videos the kids used to sing along and learn the motions to, as well as both our VBS 2015 teaser video we used to introduce the Diving Deep Into God's Word theme, as well as the final video of the week that showed some of the scenese of what had happened.

VBS 2014

In 2014 we worked with our friends at Faith Fellowship to develop our own Vacation Bible School program from scratch. The curriculum, graphics and overall design of the VBS were all original. Although our daily songs were written by others, we produced our own music videos, as well as our own theme song -- Blast Off!, written by Christopher Banke and performed by the Forlorn Strangers of Nashville.

In the videos below you'll also see original computer animation of our own starship, the USS Fellowship, flying through space. The animation was produced by Mike Brant, based on designs I provided him. The overall feel for this VBS was inspired by the ships and graphics seen in Star Trek's The Next Generation, Deep Space Nine and Voyager. I offer a particular shout out to Mike Okuda for the inspiration for our graphics, which comes from his famous-in-Trekdom Okudagrams. Our communicator and ship's pin also took its inspiration from Mike's design for NASA's now abandoned Ares launch vehicle program patch.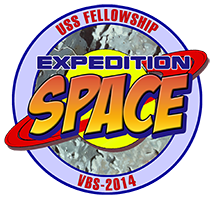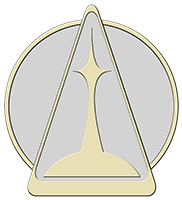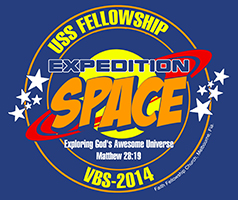 From above left, this was our mission patch, communicator/ship's pin, and t-shirt design. T-shirts were blue as seen, and were printed under special arrangement with Space Shirts on Merritt Island, Fla., just outside the gates of the Kennedy Space Center. The two rows of graphics below show the daily newsletter we produced (click to see the full document) and examples of how we graphically presented our daily themes.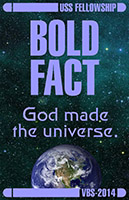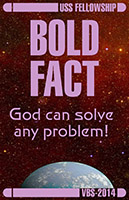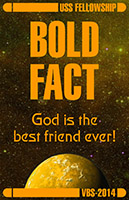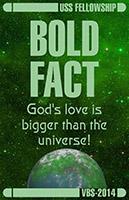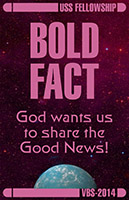 The videos below represent our daily music videos that the kids sang and danced to. The music videos feature children and youth from our church, all handsomely and beautifully wearing the official VBS t-shirts. The final video at bottom right is the opening credits to our daily skit.
Finally, here are copies of our crew training manaual and curriculum. You are free to download and preview. If you'd like to actually use this for your church, please let me know and I'll be happy to fill you in on a lot more details, and share more material with you. Just e-mail me at vbs2015@aol.com.
VBS 2013
As a sample from 2013, here is the teaser video I produced before the event, and the slide show wrapping up that year's VBS.
VBS 2012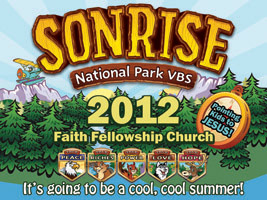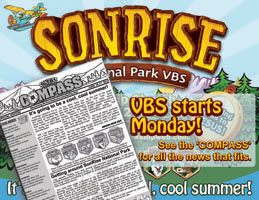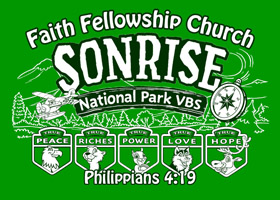 Assembled using clip art provided by the publisher of the Vacation Bible School material we used in 2012, above are a pair of signs used as PowerPoint slides to promote the event, while the green and white design at right was used as the front of the t-shirts that each child received.


With the help of a wonderful ninth-grader, Cicely Conway, who shot most of the images, we produced a daily newsletter for our VBS called the Compass. Links to each of the newsletters are offered here.
Monday | Tuesday | Wednesday | Thursday | Friday
Finally, here is a video just shy of four minutes that I produced that shows highlights of our VBS program in 2012. Pictures used were taken by Cicely Conway, Teresa McIntyre and myself.
---
Keep One Here Campaign
Now open at the Kennedy Space Center Visitor Complex, the new Space Shuttle Atlantis exhibit is moving, thrilling, inspiring and sad all at the same time. The process by which Delaware North Parks Services began working with the community to ensure one of the retired orbiters would stay in Florida began about six years earlier. It was in mid-2007 that Delaware North contracted with MILA Solutions to organize the initial effort, which resulted in the Keep One Here campaign. This resulted in a written proposal and a meeting of community leaders, from which additional efforts grew and led to NASA Administrator Charlie Bolden announcing that Atlantis would remain at KSC. The goal was achieved thanks to the hard work of many dedicated parties.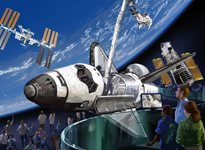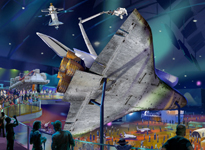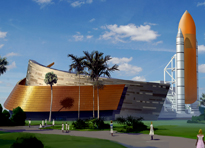 ---