---
MILA Solutions is available to help with special projects that take advantage of our writing, creative, and project management skills. Some examples are presented here:
---
NASA Contributions to Aeronautics
In 2010, NASA published a two-volume book that reviewed the agency's contributions to aeronautical research during its first 50 years of existence. The work was managed and edited by the respected author and historian, Richard Hallion, who contracted with MILA Solutions to write three of the book's chapters, covering the topics of jet engine propulsion, aircraft icing and air traffic management. Links to PDF files of the individual chapters are offered here, while e-book versions of the entire book set, along with other interesting titles, are available at no charge from this NASA web page.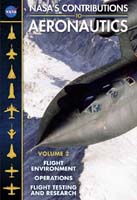 ---
National Space Club Florida Committee
I have been a member of the board of the National Space Club Florida Committee for some 20 years. The organization is the state's leading space-related club and is affiliated with the National Space Club and Foundation in Washington, D.C. Our purpose is to honor, inform and inspire the past, present and future members of the nation's best aerospace workforce, which is right here on the Space Coast. My contributions have involved project management and graphics support, including design and maintenance of the official website through 2018.

In 2012, I represented the NSCFL as co-chair of the planning committee for the Kennedy Space Center's 50th Anniversary Gala. I served as Master of Ceremonies for the event, which was held at the Apollo Saturn V Center. It was a true, career highlight. The two videos here include NASA TV's report on the event and the official KSC at 50 video, which I helped with as a creative consultant and script editor.
---
Faith Fellowship Church
My wife and I attend Faith Fellowship Church in Melbourne, Fla. Their children's program director is Kris Pakulak and it's been my sincere pleasure to help her reach out to young kids with a message that God loves them. One of the major ways I did this was to help out with the annual Vacation Bible School program. Much of what we produced was based on original ideas, which we then blended with content we either purchased rights to use or came from public domain sources. Here are some examples from the past few years. (I essentially "retired" from children's ministry in 2019.)

PLEASE NOTE: If you are interested in using any of the VBS materials presented below with your own church, we are happy to share. I only ask that you please CONTACT ME to let me know, as we do consider all original material copyrighted by both Faith Fellowship Church and MILA Solutions, LLC. Plus, since there's a lot more that went into these summer programs than what is presented here, we can talk about what other materials (graphics, files, or general advice) may be helpful to you.

VBS 2018

Our VBS program in 2018 was probably my favorite, the most fun to produce and -- in my opinion -- the most popular and well-received by the 225+ kids that participated. Our super hero themed VBS had something for boys and girls, and the loved it! Presented here are examples of the graphics we used to share our daily themes. You'll also see our official t-shirt design and PDF copies of our daily newsletters, as well as the curriculum we developed for our teachers. This included material written specifically for either pre-schoolers or elementary kids through grade 5. The orientation manual we used in our initial VBS volunteer training is also available.

VBS 2017

During 2017 we went with a generic sports theme that borrowed its imagery and overall look from the Olympics (but without trademark violations!) and the big five sports of soccer, basketball, baseball, hockey and football. Presented below are the five main daily points (which were used as posters and small collectible cards kids could take home), the six daily newsletters (including the preview that went out to parents the week before), and our main logo and how it looked on our official t-shirt. Finally, the two PDFs that contain all our lessons are presented for you to look through.

VBS 2016

The theme this year was "Glacier Bay Resort and Convention Center." We rolled out the hospitality red carpet to our young guests as we shared that all things are possible with God -- including a tropical resort at the base of a frozen cliff of ice. Presented here is a look at our logo, home-grown curriculum -- which included elements from Group's 2015 Everest theme -- and our copies of our daily newsletters.

VBS 2015

Our theme for VBS 2015 was "Diving Deep Into God's Word."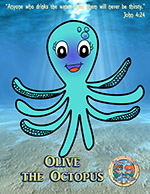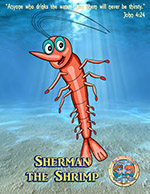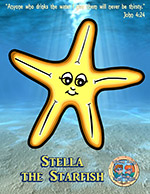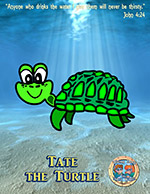 VBS 2014
The overall look for this space-related VBS was inspired by the graphics originally conceived by Mike Okuda as seen in Star Trek's The Next Generation, Deep Space Nine and Voyager TV series. Our communicator and ship's pin also took its inspiration from Mike's design for NASA's now abandoned Ares launch vehicle program patch.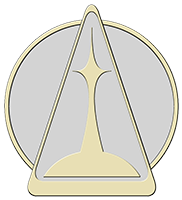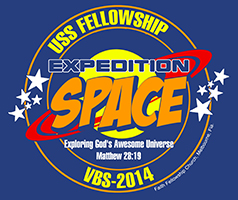 From above left, this was our mission patch, communicator/ship's pin, and t-shirt design. T-shirts were blue as seen, and were printed under special arrangement with Space Shirts on Merritt Island, Fla., just outside the gates of the Kennedy Space Center. The two rows of graphics below show the daily newsletter we produced (click to see the full document) and examples of how we graphically presented our daily themes.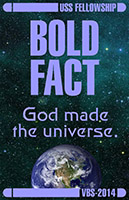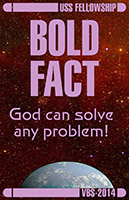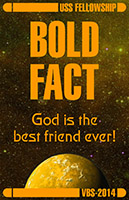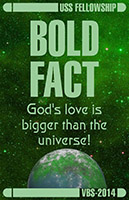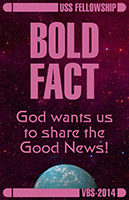 The first video below was our VBS theme song, written by my son, Christopher Banke and performed by the Forlorn Strangers of Nashville, as favor to me. The other video shows the opening credits we presented each morning before our daily skit. In the video you'll also see original computer animation of our own starship, the USS Fellowship, flying through space. The animation was produced by Mike Brant, based on designs I provided him.
Finally, here are copies of our crew training manual and curriculum.
---
Keep One Here Campaign
Now open at the Kennedy Space Center Visitor Complex, the new Space Shuttle Atlantis exhibit is moving, thrilling, inspiring and sad all at the same time. The process by which Delaware North Parks Services began working with the community to ensure one of the retired orbiters would stay in Florida began about six years before the exhibit opened. It was in mid-2007 that Delaware North contracted with MILA Solutions to organize the initial effort, which resulted in the "Keep One Here" campaign. This resulted in a written proposal and a meeting of community leaders, from which additional efforts grew and led to NASA Administrator Charlie Bolden announcing that Atlantis would remain at KSC. The goal was achieved thanks to the hard work of many dedicated parties.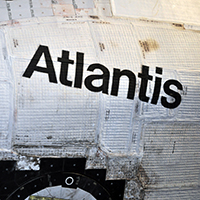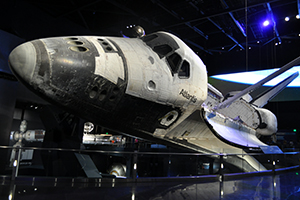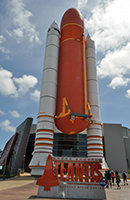 ---